Get Babylon's Translation Software
Free Download Now!
Copy the following code and paste it on your webpage:

Babylon English-English
Kingdom of Saudi Arabia, kingdom occupying most of Arabia

Multi Internet Domains
SA
**

Currency In Each Country
Saudi riyal (SAR)
hEnglish - advanced version
saudi arabia
n : a kingdom occupying most of the arabian peninsula in southwest asia; vast oil reserves dominate the economy
[syn: saudi arabia, kingdom of saudi arabia]
Internet Domains
SA

WordNet 2.0
Noun
1. an absolute monarchy occupying most of the Arabian Peninsula in southwest Asia; vast oil reserves dominate the economy
(synonym) Kingdom of Saudi Arabia
(hypernym) Asian country, Asian nation
(member-holonym) Arab League
(part-holonym) Middle East, Mideast, Near East
(member-meronym) Saudi, Saudi Arabian
(part-meronym) Riyadh, capital of Saudi Arabia
(class) Mutawa'een, Mutawa

Soccer-Stars.org - The Stars
al Tae &amp Saudi Arabia

Birthdate
: August 2, 1972
Birthplace
: Taif, Saudi Arabia
Height
: 1.85 mts
Weight
: 75 kgs
Position
: Goalkeeper
International
: 109 caps, 0 goals (as of August 2, 2000)
World Cups
: 2 (1994, 1998)
Previous Clubs
: None
Transfer Fee
: -
Seen by many as Asia's best custodian - a fact he's quite happy to endorse, adding that he believes he's among the world's top 10 - Al Daeyea is in no hurry to chase the riches that are on offer, he started his football career not keeping the ball out of the net, but trying to put it there. But his career as a striker, although moderately successful, was short lived when his brother suggested a shift to between the posts. He's been there ever since, but that hasn't stifled his urge to score.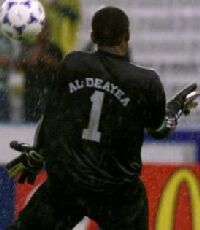 al Hilal &amp Saudi Arabia

Birthdate:
November 12, 1972
Birthplace:
Saudi Arabia
Height:
170 cm
Weight:
65 kg
Position:
Forward
International:
94 caps, 26 goals
World Cups:
2 (1994, 1998)
Previous Clubs:
None
Transfer Fee:
N/A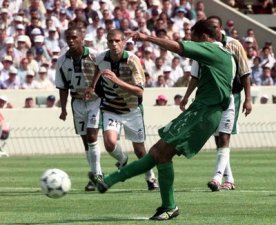 Concise English-Irish Dictionary v. 1.1
(An) Araib Shádach

Area Code International
Country Code -966

Country Phone Codes
966

Country Data Codes
SA (Internet),
SA (ISO 3166),
SAU (ISO 3166),
SA (FIPS 10-4)
CIA World Factbook 2005
Flag of Saudi Arabia


Background
In 1902, ABD AL-AZIZ bin Abd al-Rahman Al Saud captured Riyadh and set out on a 30-year campaign to unify the Arabian Peninsula. A son of ABD AL-AZIZ rules the country today, and the country's Basic Law stipulates that the throne shall remain in the hands of the aging sons and grandsons of the kingdom's founder. Following Iraq's invasion of Kuwait in 1990, Saudi Arabia accepted the Kuwaiti royal family and 400,000 refugees while allowing Western and Arab troops to deploy on its soil for the liberation of Kuwait the following year. The continuing presence of foreign troops on Saudi soil after Operation Desert Storm remained a source of tension between the royal family and the public until the US military's near-complete withdrawal to neighboring Qatar in 2003. The first major terrorist attacks in Saudi Arabia in several years, which occurred in May and November 2003, prompted renewed efforts on the part of the Saudi government to counter domestic terrorism and extremism, which also coincided with a slight upsurge in media freedom and announcement of government plans to phase in partial political representation. A burgeoning population, aquifer depletion, and an economy largely dependent on petroleum output and prices are all ongoing governmental concerns.
Map of Saudi Arabia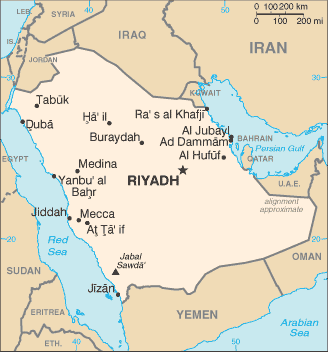 More about Saudi Arabia:
Geography
People
Government
Economy
Communications
Transportation
Military
Transnational Issues
World Cup 2006 Teams and Players
Saudi Arabia

Nickname
Sons Of The Desert
Association
Saudi Arabian Football Federation
Coach
Marcos Paquetá
Most caps
Mohamed Al-Deayea (173)
Top scorer
Majed Abdullah (67)


First international
Saudi Arabia 3 - 1 Syria
(Lebanon; October 20, 1957)
Largest win
Saudi Arabia 8 - 0 Macao
(Taif, Saudi Arabia; May 14, 1993)
Worst defeat
Germany 8 - 0 Saudi Arabia
(Japan; June 1, 2002)
World Cup
Appearances
4 (First in 1994)
Best result
Round 2 1994
AFC Asian Cup
Appearances
6 (First in 1984)
Best result
Winners, 1984, 1988, 1996
The Saudi Arabia national football team (Arabic: منتخب السعودية لكرة القدم) (known by its fan as al-Sogour which means "The Falcons" or al-Akhdar which means "The Green") is the national team of Saudi Arabia and is controlled by the Saudi Arabia Football Federation. They are regarded as a newcomer on the world scene, having made their first World Cup in 1994 and upsetting Belgium at the group stage before falling to Sweden in the next round. The side were dismissed in the first round of the next two Cup tournaments, including an 8-0 walloping by Germany in 2002.

Saudi Arabia won the Asian Cup three times, in 1984, 1988, and 1996. They won the World Under-16 Championship in 1989.

On June 8, 2005, they qualified for their fourth World Cup by beating Uzbekistan 3-0 in Riyadh.
Contents
1 World Cup record
2 Asian Cup record
3 Famous players
4 2006 World Cup Squad
5 External links
see 2006 FIFA World Cup...
see World Cup 2006 - Teams...
© This article uses material from Wikipedia and is licensed under the GNU Free Documentation License
Translate the English term Saudi Arabia to other languages