Get Babylon's Translation Software
Free Download Now!
Copy the following code and paste it on your webpage:

Babylon English-English
country located on the southeastern tip of Asia and on the northern coast of the island of Borneo

Multi Internet Domains
MY
**

Currency In Each Country
ringgit (MYR)
hEnglish - advanced version
capital of malaysia
west malaysia
Internet Domains
MY

Wikipedia English - The Free Encyclopedia
Malaysia ( or ) is a federal constitutional monarchy in Southeast Asia. It consists of thirteen states and three federal territories and has a total landmass of separated by the South China Sea into two similarly sized regions, Peninsular Malaysia and Malaysian Borneo. Land borders are shared with Thailand, Indonesia, and Brunei, and maritime borders exist with Singapore, Vietnam, and the Philippines. The capital city is Kuala Lumpur, while Putrajaya is the seat of the federal government. In 2010 the population exceeded 27.5 million, with over 20 million living on the Peninsula.
| | |
| --- | --- |
| | See more at Wikipedia.org... |

WordNet 2.0
Noun
1. a constitutional monarchy in southeastern Asia on Borneo and the Malay Peninsula; achieved independence from the United Kingdom in 1957
(synonym) Malaya
(hypernym) Asian country, Asian nation
(member-holonym) Association of Southeast Asian Nations, ASEAN
(part-holonym) Indochina, Indochinese peninsula
(member-meronym) Malay, Malayan
(part-meronym) East Malaysia
(class) godown

Concise English-Irish Dictionary v. 1.1
An Mhalaeisia

Area Code International
Country Code -60

Country Phone Codes
60

Country Data Codes
MY (Internet),
MY (ISO 3166),
MYS (ISO 3166),
MY (FIPS 10-4)
CIA World Factbook 2005
Flag of Malaysia


Background
During the late 18th and 19th centuries, Great Britain established colonies and protectorates in the area of current Malaysia; these were occupied by Japan from 1942 to 1945. In 1948, the British-ruled territories on the Malay Peninsula formed the Federation of Malaya, which became independent in 1957. Malaysia was formed in 1963 when the former British colonies of Singapore and the East Malaysian states of Sabah and Sarawak on the northern coast of Borneo joined the Federation. The first several years of the country's history were marred by Indonesian efforts to control Malaysia, Philippine claims to Sabah, and Singapore's secession from the Federation in 1965.
Map of Malaysia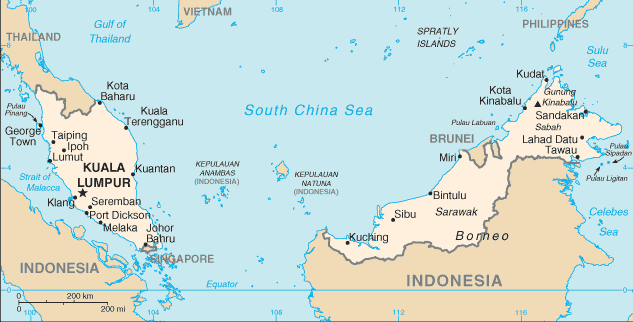 More about Malaysia:
Geography
People
Government
Economy
Communications
Transportation
Military
Transnational Issues

Company Info: Ticker, Name, Description
MALAYSIA FUND INC
Exchange: NYSE
Not Available
Translate the English term Malaysia to other languages