Get Babylon's Translation Software
Free Download Now!
Copy the following code and paste it on your webpage:

Babylon English-English
independent republic comprised of the Fiji Islands located in the western South Pacific Ocean (north of New Zealand)

Multi Internet Domains
FJ
**

Currency In Each Country
Fijian dollar (FJD)
hEnglish - advanced version
fiji
n : an independent state within the british commonwealth located on the fiji islands
[syn: fiji, republic of fiji]
similar words(1)
republic of fiji
Internet Domains
FJ

Wikipedia English - The Free Encyclopedia
Fiji (; ), officially the Republic of Fiji (; ), is an island nation in Melanesia in the South Pacific Ocean about northeast of New Zealand's North Island. Its closest neighbours are Vanuatu to the west, France's New Caledonia to the southwest, New Zealand's Kermadec to the southeast, Tonga to the east, the Samoas, France's Wallis and Futuna to the northeast and Tuvalu to the north.
| | |
| --- | --- |
| | See more at Wikipedia.org... |

WordNet 2.0
Noun
1. an independent state within the British Commonwealth located on the Fiji Islands
(synonym) Republic of Fiji
(hypernym) country, state, land
(part-holonym) Fiji Islands, Fijis
(member-meronym) Fijian
(part-meronym) Suva

Area Code International
Country Code-679

Country Data Codes
FJ (Internet),
FJ (ISO 3166),
FJI (ISO 3166),
FJ (FIPS 10-4)
CIA World Factbook 2005
Flag of Fiji


Background:
Fiji became independent in 1970, after nearly a century as a British colony. Democratic rule was interrupted by two military coups in 1987, caused by concern over a government perceived as dominated by the Indian community (descendants of contract laborers brought to the islands by the British in the 19th century). A 1990 constitution favored native Melanesian control of Fiji, but led to heavy Indian emigration; the population loss resulted in economic difficulties, but ensured that Melanesians became the majority. Amendments enacted in 1997 made the constitution more equitable. Free and peaceful elections in 1999 resulted in a government led by an Indo-Fijian, but a coup in May 2000 ushered in a prolonged period of political turmoil. Parliamentary elections held in August 2001 provided Fiji with a democratically elected government and gave a mandate to the government of Prime Minister Laisenia QARASE.
Map of Fiji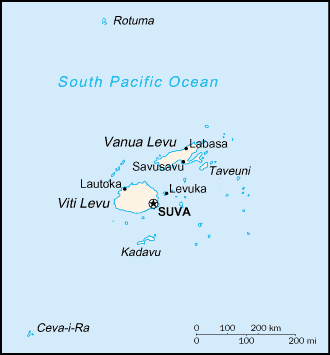 More about Fiji:
Geography
People
Government
Economy
Communications
Transportation
Military
Transnational Issues

Australian Slang
imaginary wealthy uncle or financial backer
Translate the English term Fiji to other languages